To view information about our utilities, select one of our services below: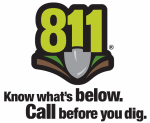 CALL BEFORE YOU DIG!
If you are planning demolition or excavation work of any kind, please call 
Tennessee One-Call
 at least three days before you begin. By calling, you will avoid interruption of service, save yourself costly delays, and prevent unnecessary accidents or injuries.
Tennessee One-Call System, Inc.
 is a statewide notification system that marks underground members utility free of charge.
Residents, contractors, and anyone planning to dig, drill, or blast in Tennessee:
It's a FREE call!
Call 811 or 1-800-351-1111
for 24-hour underground utility line location.
You may also visit 
www.call811.com
 and apply for a locate online.