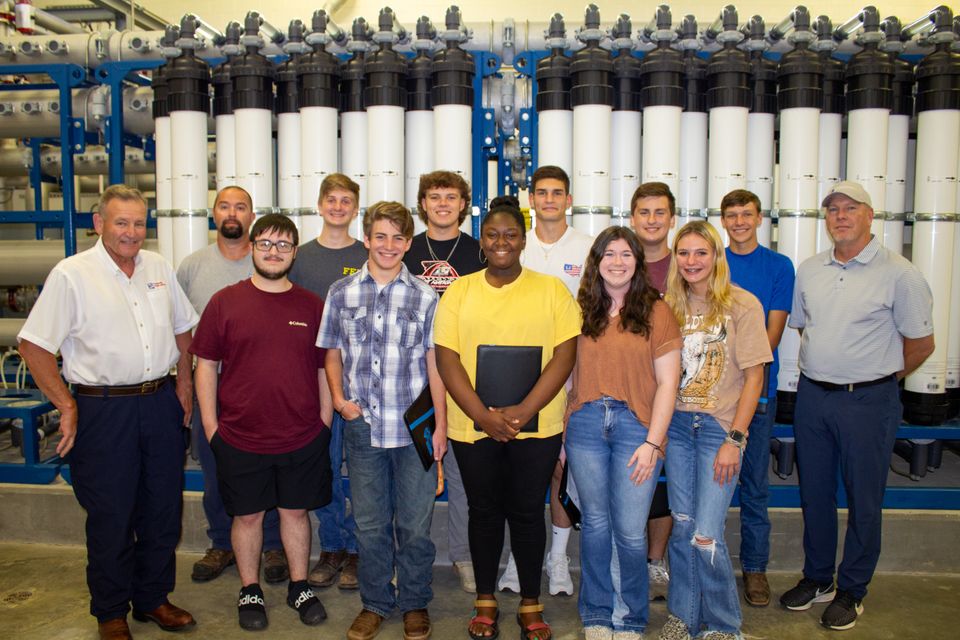 FPU

AND TAUD LAUNCH PRE-APPRENTICESHIP PROGRAM FOCUSED ON THE WATER INDUSTRY
Officials with the Tennessee Association of Utility Districts (TAUD) have partnered with Fayetteville Public Utilities (FPU) to create a pre-apprenticeship program for local high school students. The program is focused on bringing awareness to career opportunities in the water industry as well as educating local youth about the importance of being good stewards of water resources.
Many water treatment plant operators in Tennessee are nearing retirement age. This pre-apprenticeship program is designed to address the need for certified water facility operators in the state by involving high school students in the industry. The program combines job and safety training with instruction to give students knowledge and experience in all areas of the water facility. Students work under the close supervision of FPU's water treatment plant supervisor as well as TAUD's workforce development coordinator.
"FPU is proud to partner with TAUD to pilot this pre-apprenticeship program," said FPU CEO/General Manger Britt Dye. "It is an honor to offer this unique experience to local students who are interested in learning more about the water industry and the careers associated with the field."
During the 10-month program, students will meet once a month to learn about different aspects of the water utility. Students will complete the program with several certifications and experience that will make them an asset to the water industry.
[Students from Fayetteville High School and Lincoln County High School participate in a 10-month pre-apprenticeship program focused on the water industry. (Back row, from left) FPU CEO/General Manager Britt Dye, FPU Water Treatment Plant Supervisor Lee Williams, Kris Eslick, Brett Dobbs, Carson Thompson, Jay Patterson, Knox Rogers and TAUD Workforce Development Coordinator Kevin Byrd (front row) Wyatt Buchanan, Jameson McGill, India Bryson, Sarah Prince and Katlyn Wilson.]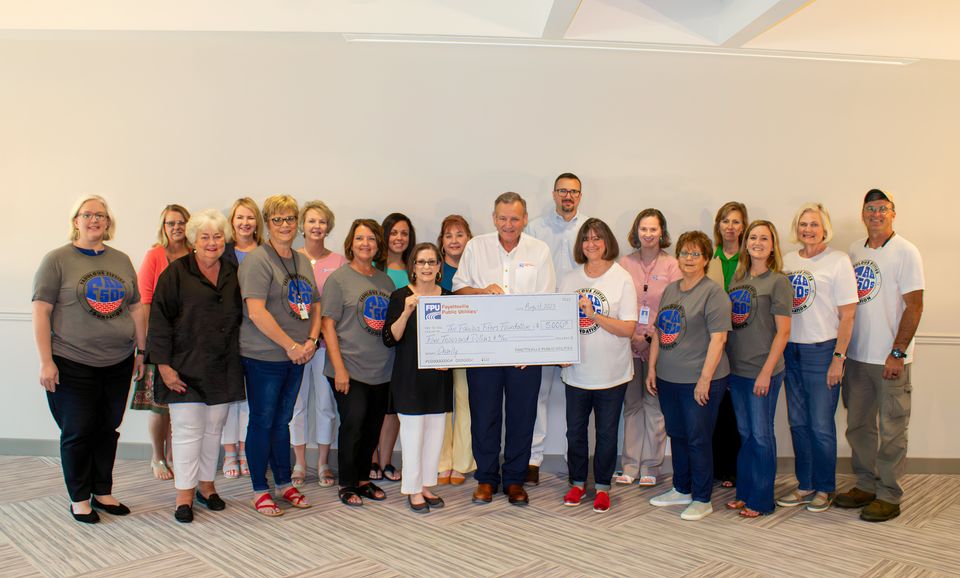 FPU

DONATES TO THE FABULOUS FIFTIES FOUNDATION
Fayetteville Public Utilities' (FPU) gives back to the community by donating $5,000 to The Fabulous Fifties Foundation. The Fabulous Fifties Foundation, a local 501c3, raises money to be dispersed to people in need in Lincoln County. The needs include victims of accidents, illnesses and hardships.
"The Fabulous Fifties Foundation greatly appreciates this wonderful donation from FPU," said Jane Wilcox, member of The Fabulous Fifties Foundation. "A generous benefactor has offered to match up to $35,000 of funds that we raise in the month of August. This will help us reach our goal so that we can help local people in need. Anyone wishing to follow suit with FPU can mail any tax-deductible amount to P.O. Box 934, Fayetteville, TN 37334."
According to FPU CEO/General Manager Britt Dye, "FPU holds an annual ribeye sandwich sale to raise money for local charities. We are honored to donate these funds to various charitable organizations in our local area who work every day to make a difference in our community. In addition to our day-to-day efforts to keep utilities running smoothly, we support local organizations, like The Fabulous Fifties Foundation, whose mission aligns with FPU's genuine concern for our community and our commitment to help it thrive."
FPU's annual employee sponsored Ribeye Sandwich Sale is September 12. All proceeds benefit local charities. Ribeye sandwich tickets are $7.00 and must be purchased in advance by visiting FPU's main office at 408 College Street West or by calling 931-433-1522. Orders can be picked up at the main office from 11:00 a.m. until 12:30 p.m. on the day of the sale. Delivery is available within FPU's service area for orders of 10 or more sandwiches.
[Members of The Fabulous Fifties Foundation gathered with FPU employees as FPU CEO/General Manager Britt Dye presented a $5,000 check to the foundation.
Back row, from left: LaDonna Thrasher, Jamie Slayton, Teresa Gentry, Shawna Moore, Missy Neely, Nathan Taylor, Katie Burk and Kim Posey, front row, Andrea Delap, Cary Sullivan, Mary Jane Porter, Carolyn Denton, Jane Wilcox, Britt Dye, Mickie Bigham, Sara Jo Pierce, Anna Margaret O'Connor, Lucy Cowley and Mike Hines.]
FPU TAKES LOCAL STUDENTS TO WASHINGTON, D.C.
Three students from Lincoln County spent a week in the nation's capital as delegates of the 2023 Washington Youth Tour. Georganna Atkins of Riverside Christian Academy, Samantha Cagle of Lincoln County High School and Maria Cruz Solis of Fayetteville High School joined 128 other students from across Tennessee on the weeklong trip that began on Friday, June 16.
The annual event is sponsored by Fayetteville Public Utilities (FPU) and the Tennessee Electric Cooperative Association (TECA). The students were selected for the trip by writing a short story titled "Co-ops Connect" that explains how local utilities connect Tennessee communities with energy, education, broadband, economic development and more.
FPU CEO/General Manager Britt Dye commented, "Through the Youth Tour, these young people are given an extraordinary chance to explore history and public policy in a direct way, cultivate their leadership skills and acquire knowledge that will be valuable for their communities down the road."
"The Washington Youth Tour is more than just a trip," said Todd Blocker, vice president of member relations for TECA and tour director. "It's a transformative experience that ignites a love of history, inspires leadership and empowers young minds to shape the future. By witnessing awe-inspiring monuments, engaging with our nation's leaders and connecting with a community of peers, the Washington Youth Tour can cultivate a lifelong passion for active citizenship."
While in Washington, D.C., Tennessee's Youth Tour delegates saw the White House and memorials to past presidents Thomas Jefferson, Abraham Lincoln and Franklin Delano Roosevelt as well as monuments honoring the sacrifices of veterans of World War II and the Vietnam and Korean Wars. During visits to the museums of the Smithsonian Institution, the touring Tennesseans saw and experienced natural, historical and artistic treasures. Other fun stops included historic homes of former presidents – George Washington's Mount Vernon and Jefferson's Monticello – as well as the National Harbor, the Washington National Cathedral and a boat cruise down the Potomac River. The group also paid a solemn and sobering visit to Arlington National Cemetery where the delegates laid a wreath at the Tomb of the Unknown Soldier.
Delegates were welcomed to the U.S. Capitol by Senators Marsha Blackburn and Bill Hagerty, as well as other members of the Tennessee congressional delegation. The students had the opportunity to take photos with them and ask them questions.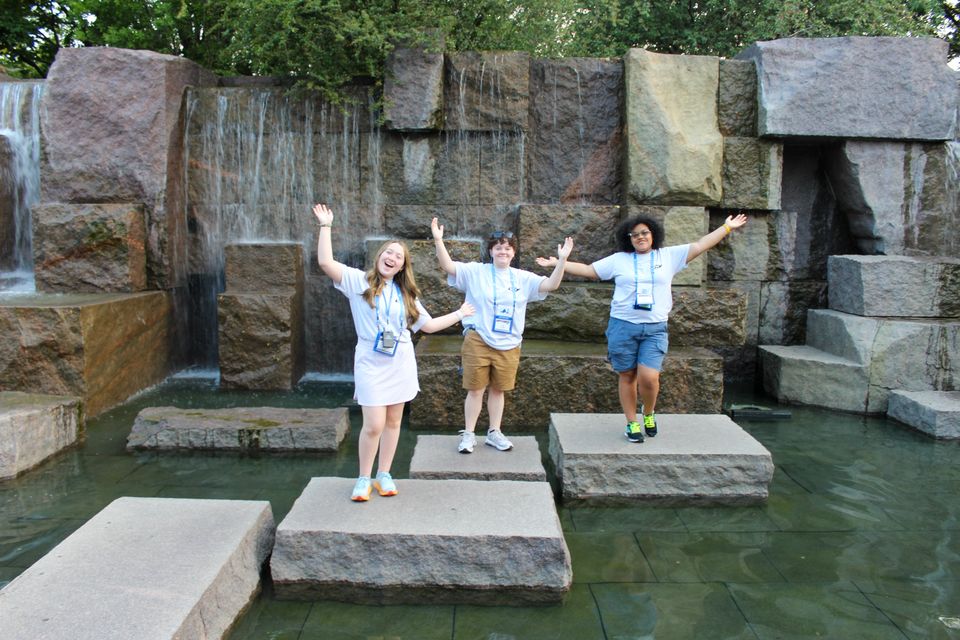 While in D.C., winners were announced in the statewide competition for the Robert McCarty Memorial Scholarships. Livia Benefield from Sequachee Valley Electric Cooperative, Cole Coffman from Southwest Tennessee Electric Cooperative and Claire Townley from Tennessee Valley Electric Cooperative were awarded $3,000, $2,000, and $1,000 Robert McCarty Memorial Scholarships for having the first,
second and third place papers of the thousands submitted across the state for this year's contest. The scholarships are named in memory of Robert McCarty, an employee of Volunteer Energy Cooperative and longtime chaperone on the annual Youth Tour.
Ernee Webb, a senior from Cumberland Electric Membership Corporation, was awarded a $10,000 Cooperative Youth Ambassador Scholarship. Webb was a 2022 delegate on the Washington Youth Tour. Delegates who remain engaged with their sponsoring utility during their senior year and complete certain community service requirements are eligible for the scholarship. Webb's name was randomly selected among the 25 delegates from across the state who completed the requirements.
"Investing in these young people not only nurtures their potential but is an investment in the future of rural and suburban Tennessee," said Mike Knotts, CEO of TECA. "It is exciting to consider the impact that these talented young people will have on their communities, and local utilities are honored to support their academic journeys."
The Washington Youth Tour was inspired by President Lyndon B. Johnson in 1957 when he encouraged local utilities to send young people to the nation's capital. Since then, more than 6,000 young Tennesseans have participated in the Washington Youth Tour as delegates.
"We take great pride in recognizing the best and brightest from across Fayetteville and Lincoln County," adds Dye. "FPU cares about the future, and the Washington Youth Tour is just one way we honor the accomplishments of future leaders. We want these young people to come home with a better understanding of their nation and a new passion to serve their community."
The Tennessee Electric Cooperative Association provides leadership, advocacy and support for Tennessee's 23 local utilities and publishes The Tennessee Magazine, the state's most widely circulated periodical. Visit tnelectric.org or tnmagazine.org to learn more.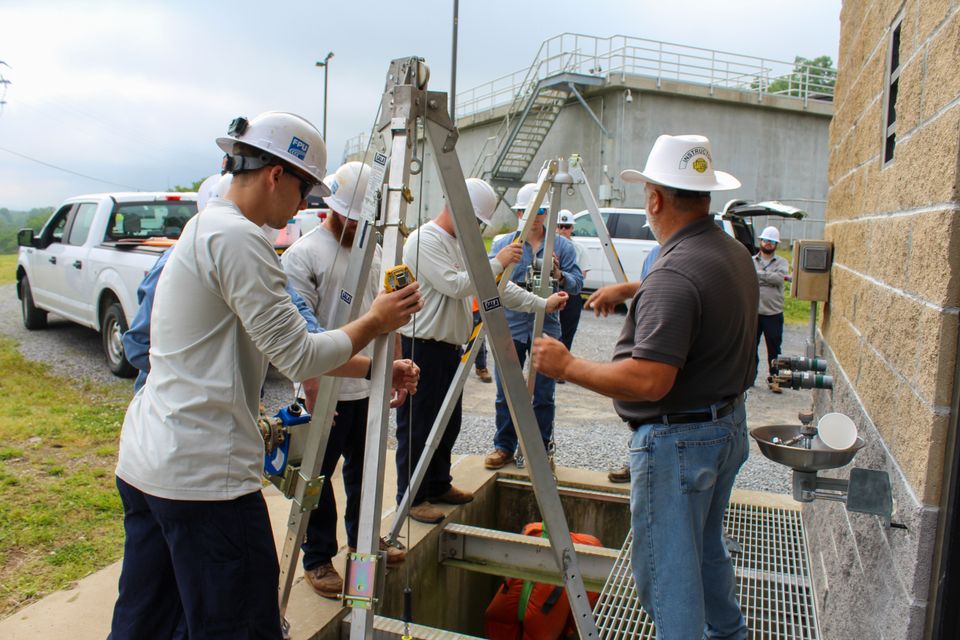 FPU EMPLOYEES PARTICIPATE IN CONFINED SPACE TRAINING
Fayetteville Public Utilities' (FPU) employees from the water, wastewater and gas departments gathered recently at FPU's Water Treatment Plant for the annual confined space training. The Occupational Safety and Health Administration (OSHA) mandates every employee who may work in small spaces receive this training.
"Training helps keep employees safe, develops necessary skills and prepares workers for higher responsibilities," said FPU CEO/General Manager Britt Dye. "Utility work can be dangerous. Therefore, FPU places great emphasis on training. We want to equip our employees with the knowledge needed to perform their jobs safely."
According to OSHA, employees in the public utility industry may work in many areas considered "confined spaces". These spaces are not necessarily designed for people but are large enough for workers to enter and perform certain jobs. Confined spaces may also have limited or restricted entry or exit points and are not designed for continuous occupancy. Confined spaces could include tanks, silos, storage bins, hoppers, vaults, pits, manholes, tunnels, ductwork, pipelines, etc.
"It is important for employees to understand the potential dangers and risks involved with confined spaces," added Dye. "At FPU, we want to ensure our employees are as safe as possible and well prepared for all situations."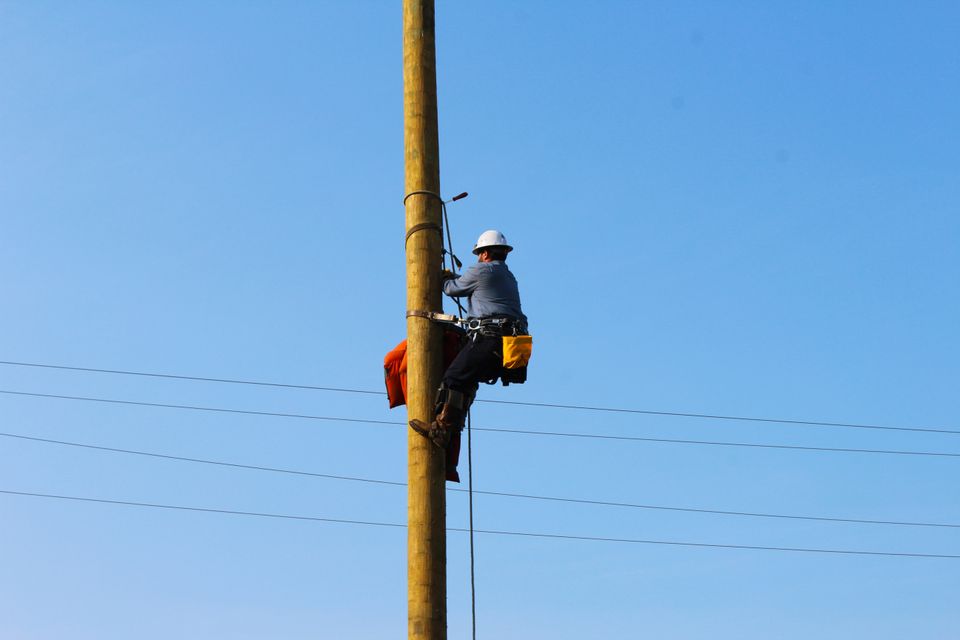 FPU TRAINED IN POLETOP AND BUCKET TRUCK RESCUE
Performing work around energized lines and equipment requires that workers be trained in rescue techniques. The Occupational Safety and Health Administration (OSHA) requires all utility personnel to be certified in pole top and bucket truck rescues, so they are prepared if a medical emergency should occur. Recently, Tennessee Job and Training Safety Instructor Tim Phegley provided pole top and bucket truck rescue training to Fayetteville Public Utilities' (FPU) employees at FPU's Work Center.
FPU employees in electric operations, tree trimming and the telecommunications department work from bucket trucks and, frequently, climb poles to maintain FPU's electric and telecom lines. For this reason, they are required to participate in an annual training course providing employees with hands-on experience in both pole top and bucket truck rescue operations.
During the pole top rescue, a mannequin is used to simulate an injured serviceman atop a power pole. The participants climb the pole, rescue the mannequin and lower the victim to safety. The rigging, lifting and lowering skills necessary to bring an injured victim down from elevated heights must be learned and practiced.
The bucket truck rescue technique would be utilized if a crew member inside the bucket is injured and in need of emergency assistance. In this simulation, the bucket is lowered to the ground by a crew member using the truck's manual controls. Once the bucket is lowered, the injured employee can be rescued.
"How a person reacts in an emergency can mean the difference between life or death," said FPU CEO/General Manager Britt Dye. "FPU provides the training necessary for our employees to respond quickly and safely during an emergency. During pole top and bucket truck rescue, employees are trained in the skills necessary to save someone's life. At the end of the workday, our goal is to safely return home to our families. By participating in this annual training, employees practice and refresh their skills, so they are prepared and can respond correctly during a real-life crisis."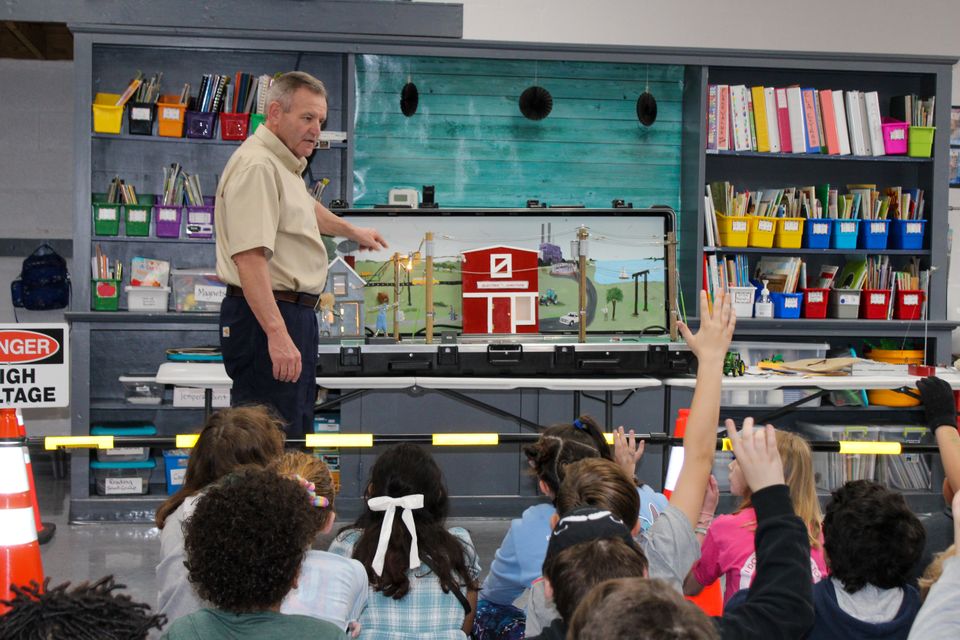 STUDENTS AT RALPH ASKINS SCHOOL LEARN ABOUT ELECTRICAL SAFETY
Fayetteville Public Utilities (FPU) makes it a priority to educate the community about safety issues concerning electricity and natural gas. For this reason, FPU offers free programs to local schools.
Students at Ralph Askins School recently learned about electrical safety as part of their STEM instruction. Louie the Lightning Bug taught students in kindergarten through 3rd grade how to play it safe around electricity. Louie's message focused on discovering how electricity is generated and travels to homes and schools, staying away from substations and other electrical equipment, avoiding downed power lines and keeping clear of power lines when flying kites or climbing trees.   
Following the presentation, students participated in a Louie the Lightning Bug coloring contest. After entries were judged, Louie the Lightning Bug made a special appearance to award prizes to the winners.
FPU CEO/General Manager Britt Dye and Assistant Electric Operation Superintendent Mike Buntley taught proper electrical safety to students in 4th and 5th grades using a tabletop model. From the demonstration, students learned the dangers of downed power lines, overhead lines and underground service.
"It's important to talk to children about electrical and natural gas safety," said FPU CEO/General Manager Britt Dye. "FPU welcomes the opportunity to partner with local schools to provide students with important safety programs at no cost. We are also happy to visit schools for career days to introduce students to the many career paths and opportunities offered at FPU."
To plan a safety presentation or career day visit, schools are encouraged to call FPU at (931) 433-1522 and speak to Nickie Tucker at extension 121. FPU looks forward to scheduling visits for the 2023-2024 school year.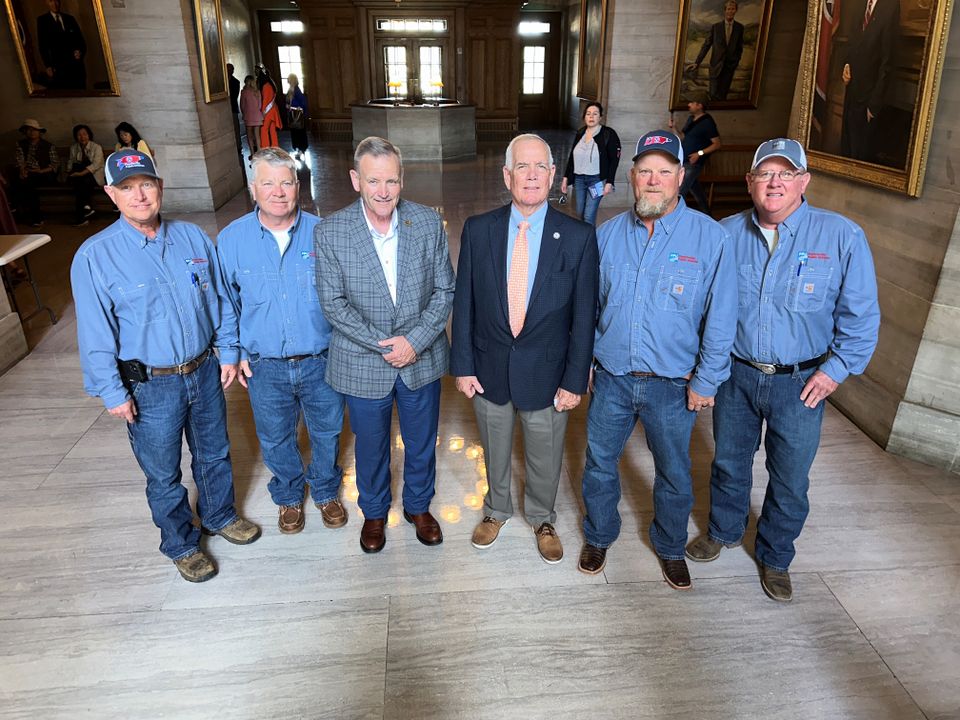 LINEWORKER APPRECIATION DAY IS OFFICIAL IN TENNESSEE
On April 10, Tennessee became the first state in the nation to formally adopt a standing Lineworker Appreciation Day. The second Monday of April each year has been codified into state law as a day to show appreciation for the state's 3,500 electric lineworkers.
Dozens of lineworkers from across the state, including four from Fayetteville Public Utilities (FPU), were at the State Capitol on April 10, to be honored by members of the Tennessee General Assembly. They were welcomed by Sen. Paul Bailey and Rep. Clark Boyd, sponsors of the legislation creating the day of appreciation, along with Secretary of State Tre Hargett in a special ceremony in the Old Supreme Court Chambers. Later, they were recognized from the floor of the House of Representatives.
"I have a special place in my heart for electric lineworkers," said Sen. Paul Bailey. "You should be honored and appreciated for what you do on a daily basis."
"We are grateful to each member of the Tennessee General Assembly for sponsoring this legislation," said FPU CEO/General Manager Britt Dye. "Lineworkers face challenging conditions and extreme weather to provide safe, reliable and affordable services to customers. They are first responders during a disaster, endure long hours away from their families and face dangerous conditions to serve our local community and keep the lights on. To a utility worker, their career is more than a job, it is a way of life, and it is an honor to recognize the courageous work they do to keep electricity flowing."
"I would like to thank Rep. Pat Marsh for meeting with some of FPU's linemen to express his appreciation for their dedication to their profession," Dye added. "We are honored by his recognition of the tremendous work lineworkers do and the sacrifices they make to ensure we have safe and reliable power."
LOCAL HIGH SCHOOLS WIN TVA STEM GRANT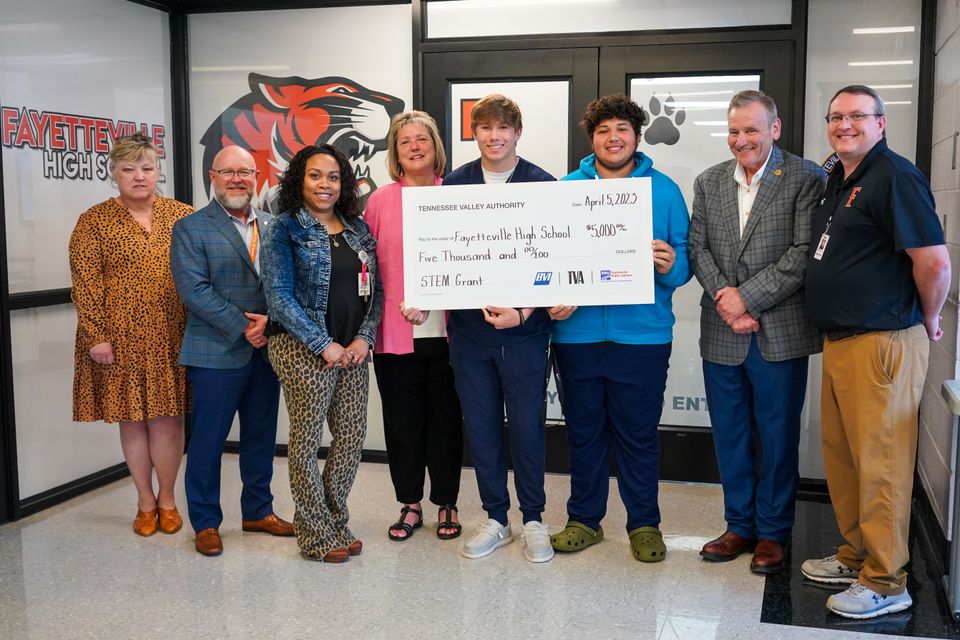 Fayetteville High School and Lincoln County High School have been awarded grants from the Tennessee Valley Authority, in partnership with Bicentennial Volunteers, Inc., a TVA retiree organization, to develop science, technology, engineering and math education projects to help spark student interest in future careers in STEM-related fields.
Teachers across TVA's seven-state region applied for funding of up to $5,000 for projects, and 238 applications were selected. Schools who are awarded grants must receive their power from a local power company served by TVA. Fayetteville High School and Lincoln County High School are served by Fayetteville Public Utilities.
"Fayetteville Public Utilities is excited to partner with TVA in supplying teachers with the tools needed to provide students with hands-on learning and real-world experiences in science, technology, engineering and math," said FPU CEO/General Manager Britt Dye. "We are honored to support our local students by helping them prepare for future careers through STEM instruction."

Fayetteville High School was awarded $5,000 to help fund the Tigers' Virtual Health Science Lab. The lab is a classroom for students to develop the competencies and skills for careers in the health care industry. Brandi Thompson, medical science teacher at Fayetteville High School, is working to create a learning environment that provides 3D visualizations of the anatomy as well as diseases and their treatments. The software will provide customizable visualizations for the students to increase comprehension and understanding. The interactive panel will be utilized in the classroom as a virtual lab to allow an in-depth look at the body systems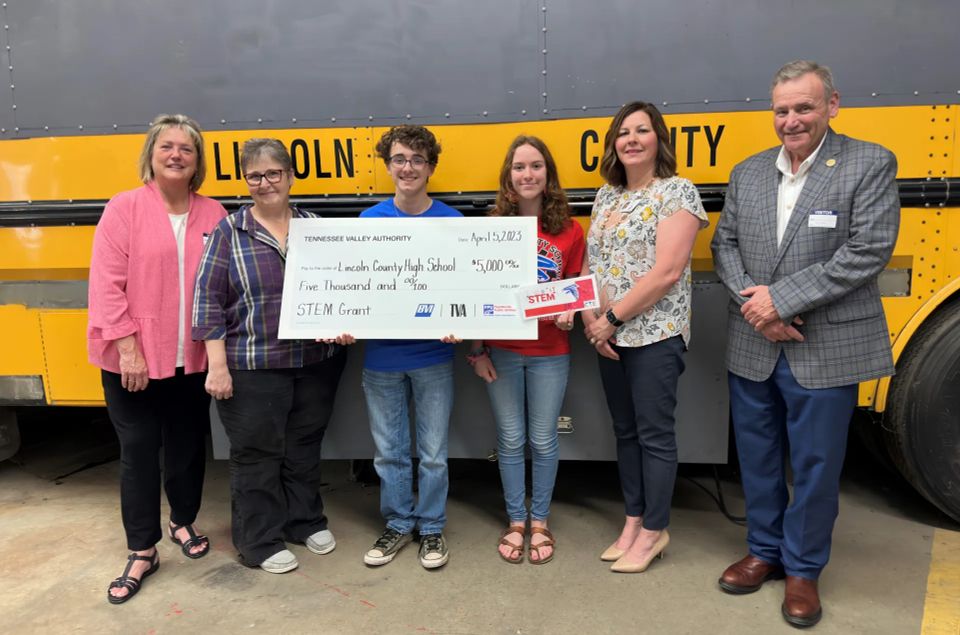 and how diseases affect these. The hands-on experiences and virtual experiments will support students as they develop the skills needed for a successful transition to the work force.

Lincoln County High School was awarded $5,000 to help support a mobile STEM lab project. Organizing the project is Marty LeBlanc, engineering teacher and robotics coach at Lincoln County High School. The OneLC Traveling STEMobile classroom will offer hands-on STEM experiences for all Lincoln County K-12 students. Career Tech students in the county have already turned a bus into a mobile classroom, and TVA's grant will help provide the supplies needed to make their OneLC Traveling STEMobile lab a reality for all students. The outreach program will motivate students from all grade levels and help generate interest in pursuing degrees and careers in STEM-related fields. Throughout the year, LCHS faculty and students will travel to Lincoln County feeder schools to immerse students in exciting, interactive activities using technology typically not available in most classrooms.
 "TVA is committed to supporting STEM education to help develop today's students into tomorrow's engineers, scientists and IT professionals," said Jeanette Mills, TVA executive vice president and chief external relations officer. "It's inspiring to be able to contribute to the innovators of the next generation."
Since 2018, TVA and BVI have awarded nearly $5 million in STEM grants to support local education. 
A full list of grant recipients and information on how to apply for a future STEM grant can be found at www.tvastem.com.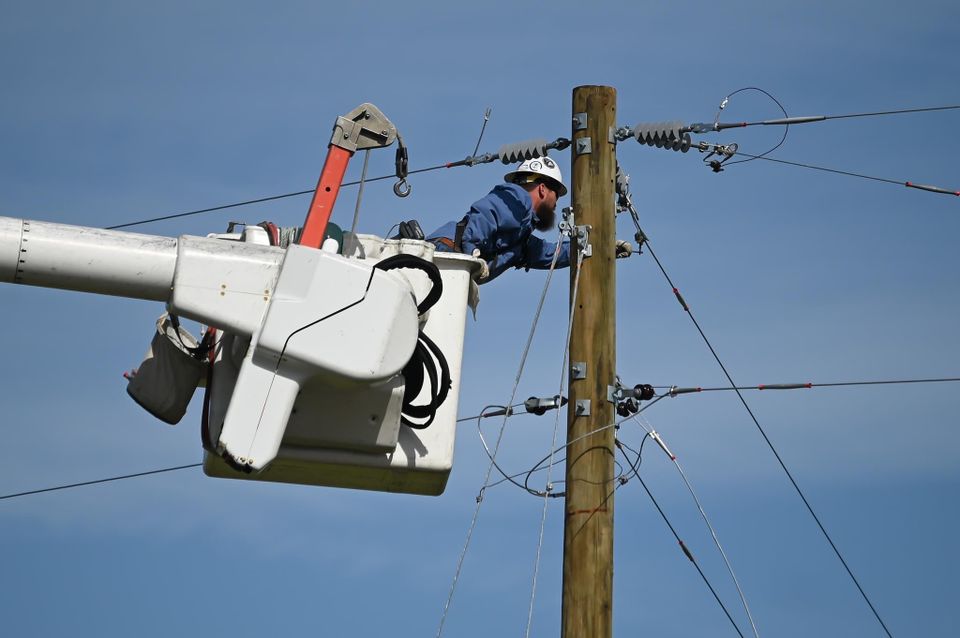 FPU CREWS RESTORE POWER IN WAKE OF TORNADOS
Recently, two separate tornados impacted Fayetteville and Lincoln County. Fayetteville Public Utilities' (FPU) electric crews responded to reports of storm damage and power outages overnight on March 24. The damage was caused by a confirmed EF-2 tornado which traveled almost four miles from Amana Ave. to just west of Winchester Hwy. The storm, producing peak winds of 118 mph, uprooted trees, broke utility poles, blew out windows and damaged structures including Goodyear and Lincoln Medical Center. 
According to FPU CEO/General Manager Britt Dye, "As reports of damage were received, FPU employees were dispatched to the impacted areas. We discovered six downed utility poles around Lincoln Medical Center, a broken pole at Goodyear, a primary wrapped in tin around the fairgrounds, damaged traffic lights and fallen trees on service lines. Despite the damage, our system performed well due to crews' ongoing efforts to limit the impact on operations and improve resilience."
In the early morning hours of Saturday, April 1, a confirmed EF-3 tornado with peak winds of 160 mph hit southeastern Lincoln County and northern Madison County resulting in one fatality. The tornado traveled over 12 miles beginning west of Highway 431. The tornado tracked east-northeast and continued to intensify along Borderline Rd. on the Tennessee and Alabama border. South of Vanntown, damage was reported around Mason Rd. and Echols Rd. The tornado finally lifted as it crossed John Hunter Hwy and Hwy 122. Numerous homes and structures were heavily damaged, trees were uprooted and 7 utility poles were broken on the Tennessee side.
"I am proud of our employees and their dedication to getting the lights back on," added Dye. "Our employees train each month, receive additional training when a storm is predicted, and have an ongoing contingency plan in place, so they are prepared if an event like this should occur. Both tornados hit in the middle of the night causing considerable damage, yet FPU crews were able to repair all major circuits within a few hours. Our employees are to be commended for restoring power as quickly and safely as possible."